---
Finding the perfect Australian opal engagement ring setting...
An Australian opal engagement ring setting needs to be protective and surround the stone on all sides. Extra protection is essential for jewellery like an opal engagement ring because it is worn everyday. Opal is relatively the same hardness as glass so treat it the same way you would crystal.
In most cases, opal engagement rings will be set in a six prong claw or rub-over bezel. Read below for some more information about what both settings are.
Claw opal engagement ring setting
A claw setting is when a gemstone is attached to its setting by a series of tiny metal prongs.
Claw settings really allow all angles and sides of the opal to shine.
The most common number of prongs is six, because the prongs don't stick out too much and the opal is protected. 
Three and four prongs will be enough if the prongs are thick enough (caution - the less prongs used, the thicker they'll be, which might cause snagging). Again, this depends on the size and shape of the stone.
With pointy ended gems, a claw setting might protrude enough to snag on clothing or furniture. Since opals are flat bottomed, they sit lower on the finger in a claw setting, but still fit comfortably with wedding and eternity bands.
The prongs make it easier for a jeweler to remove the stone and polish it, if necessary.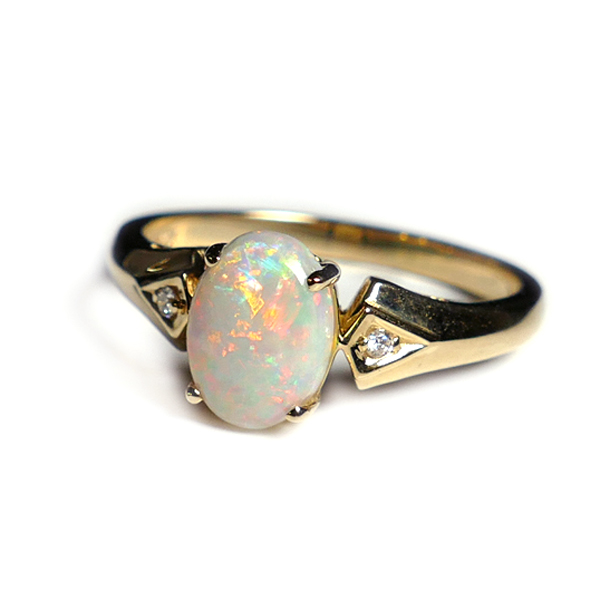 Four Claw Australian Opal Engagement Ring in Yellow Gold with Diamonds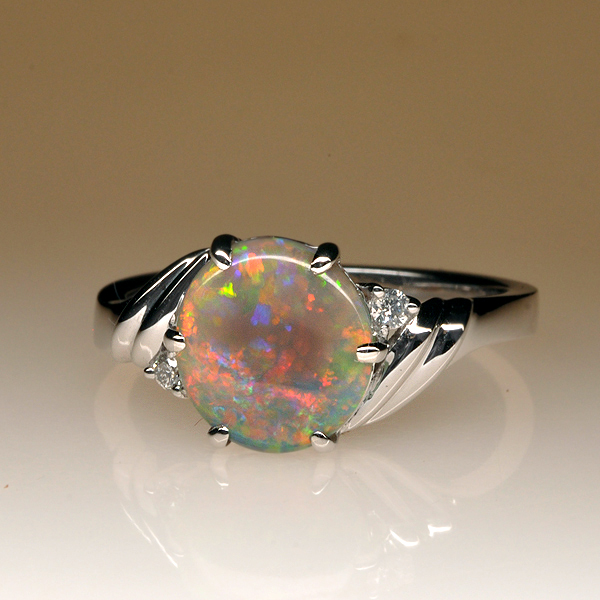 Six Claw Australian Opal Engagement Ring in White Gold with Diamonds
Rub-over opal engagement ring setting
A rub-over setting is a halo of golf wrapped and then rubbed around the edges of an opal, keeping it firmly in place and protected from chipping.
Rub-over is typically a higher price than claw because it requires more gold.
If an opal is properly set in rubbed over gold, it will never fall out.
Rub-over is almost always used for opal engagement rings with a gemstone halo. The opal is wrapped in gold and the halo of diamonds is individually bezel set around the stone. Not only does this look incredible but it adds an extra layer of protection.
Trinity rings can be in a rub-over setting, but usually only if the accent gemstones are very small.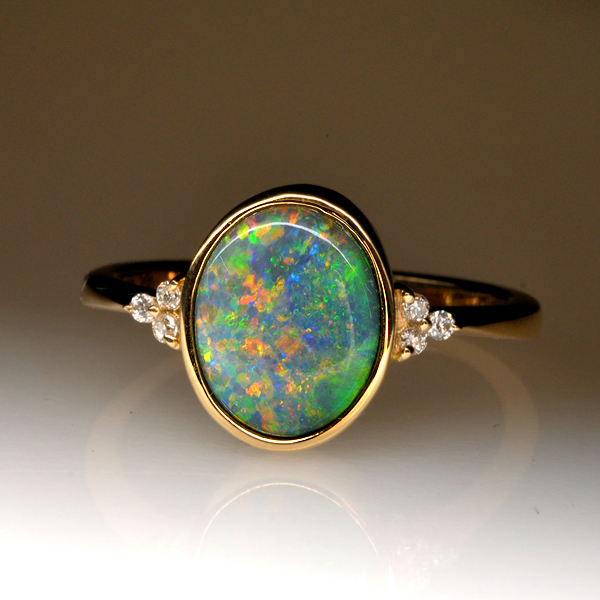 Rub-Over Bezel Set Australian Opal Engagement Ring in Yellow Gold with Diamonds
Rub-Over Bezel Set Australian Opal Engagement Ring in Yellow Gold with Diamond Halo
Opal stone thickness
Regardless of the engagement ring setting, the opal itself should be as thick as possible. Any opal that is too thin will not be able to function as the centerpiece of an engagement ring because it will be too delicate and chip. Also, if you ever want maintenance performed on the opal in the engagement ring, then it needs to be thick enough to withstand having a layer polished off by a professional.
What about a wedding band?
Something that men can sometimes to forget to keep in mind is thinking of how the engagement ring is going to fit in with the wedding and eternity band. It's best to ask your jeweller to draw up a CAD (computer animated drawing) of potential wedding band designs that match with the style of the opal engagement ring setting.
Try not to jump the gun if you see one you like, though. You can always save it for later and collaborate with your partner after the proposal to come up with a design that both of you love. For a do it yourself CAD mock-up that you can create with your partner, click here.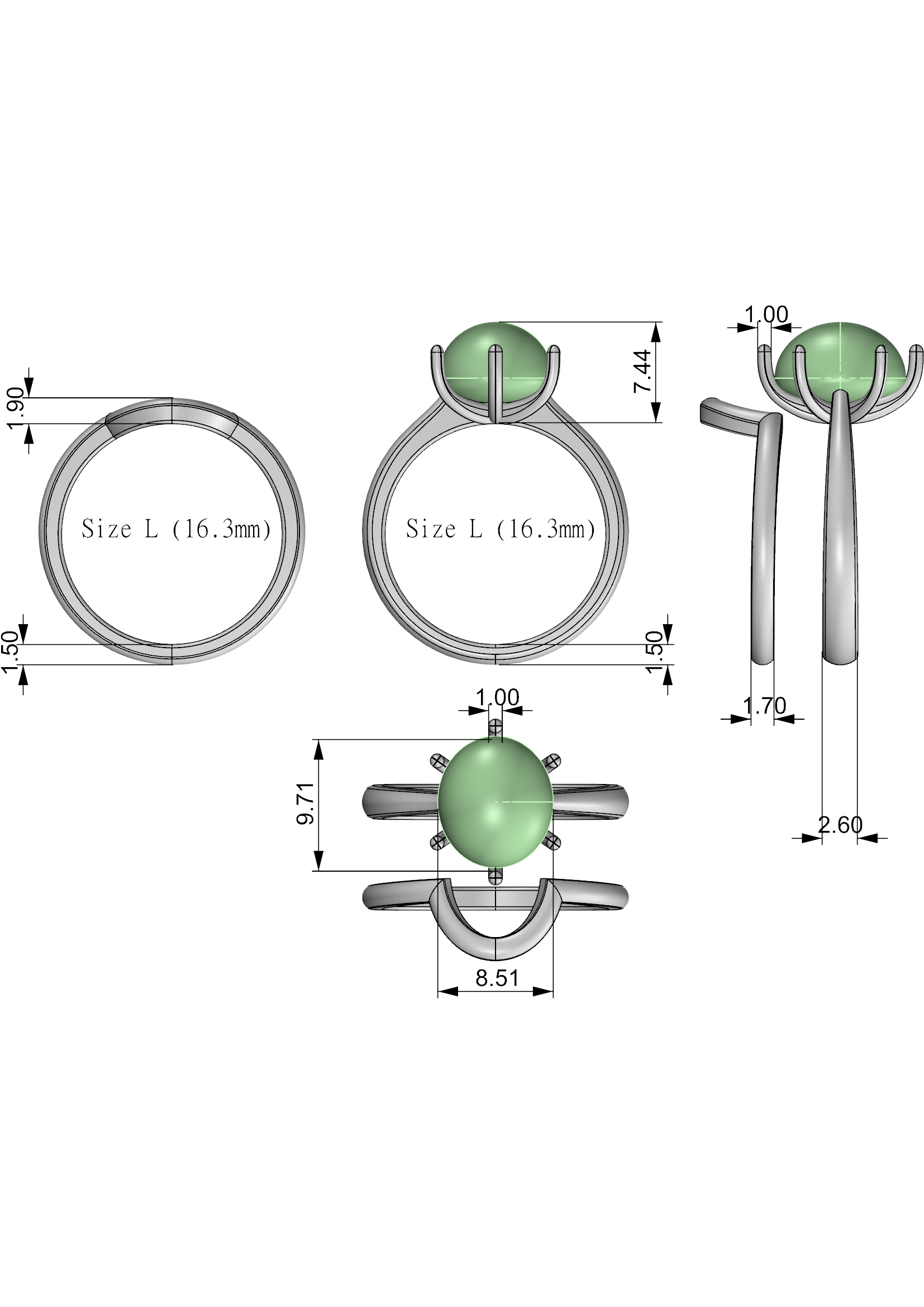 CAD of Claw Set Opal Engagement Ring with Basic Wedding Band