---
Finding the perfect white gold Australian opal engagement ring...
If your partner is fashion forward and a fan of modern or minimalist design, then a white gold Australian opal engagement ring would be the perfect choice to propose to them with. Over the last twenty years white gold has skyrocketed in popularity as a setting for engagement rings and all other types of jewellery. It is a great alternative to platinum because it is more affordable, as well as silver, because it is less reactive (does not quickly tarnish).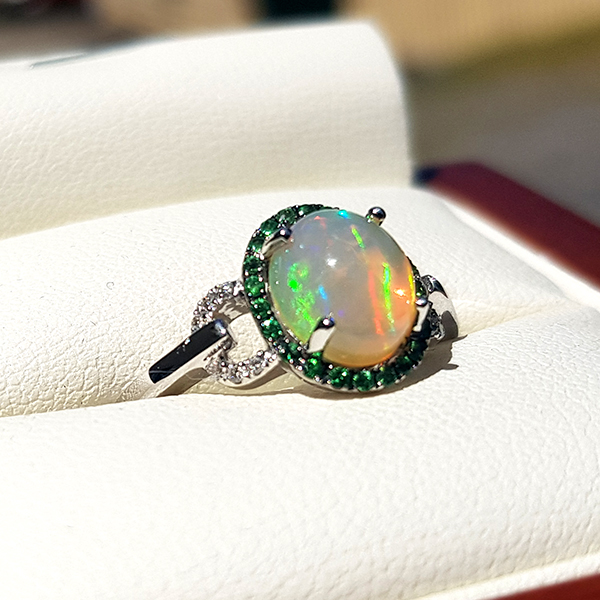 Australian Opal Engagement Ring in 18k White Gold With Emerald Halo and Diamonds
What is white gold?
Here's just a few of the reasons why white gold is so great:
Like 14k and 18k yellow and rose gold, high quality white gold exudes a luxurious feel.
Because of the alloys that it's mixed with (nickel or palladium), white gold is a slightly harder metal than yellow and rose.
Since a fair few people have a nickel allergy, the majority of white gold used in jewellery making is gold mixed with palladium and zinc.
Palladium is what gives the gold it's "white" colour and long lasting shine. Zinc helps to bleach the gold so that the jewellery doesn't tarnish.
This is super important! - If the white gold has not been mixed with palladium then it will need a rhodium plating to stay white.
Is a white gold Australian opal engagement ring right for your partner?
White gold compliments the cool undertones of fair skin. If your partner has lighter features and tends to gravitate towards silver jewellery then white gold would be a perfect choice for their engagement ring. However, many people with darker features love white gold as well. It contrast against their warmer undertones and makes the piece of jewellery really stand out (just as yellow gold does on people with fairer skin). As with all coloured gold though, it really comes down to personal preference in the end.
Picking an Australian opal for a white gold engagement ring setting
I've made white gold Australian opal engagement rings with all different colours of stone, but the most popular white gold combination is black or semi-black opals with blue and green fire. Going back to the idea of contrasting vs. complimenting, white gold compliments cool tones like green, blue, and lavender. There are exceptions, of course. One common exception is Australian white opal set in white gold. White opal does have cool greens mixed with reds, pinks, and oranges, but this combination has a similar effect to how white gold favours paler skin tones. It blends really nicely with the creamy base tone of white opals.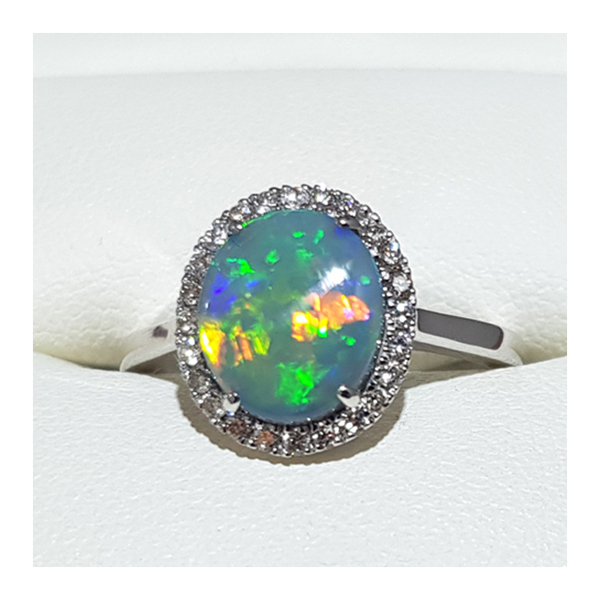 Australian Black Opal Engagement Ring in 18k White Gold with Diamond Halo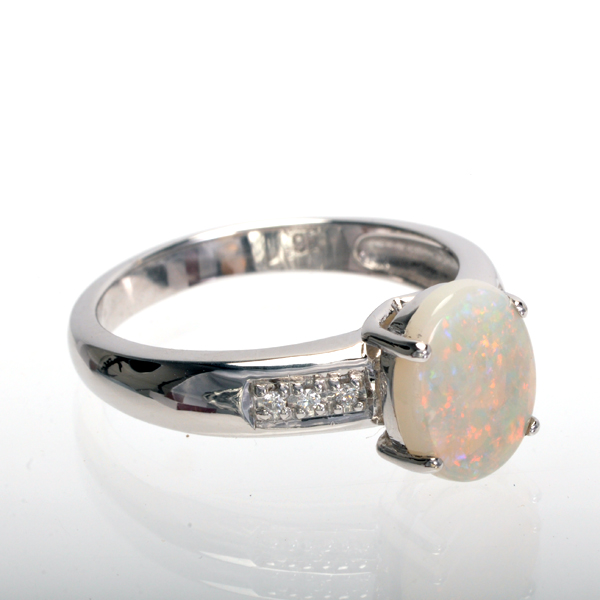 Australian White Opal Engagement Ring in 18k White Gold with Bezel Set Diamonds
For a classic, timeless opal engagement ring setting, white gold is a fantastic option. It matches with everything and never goes out of style! Click here to shop more white gold Australian opal rings.